Job opening - Marketing coördinator
We zoeken een enthousiaste hands-on marketing coördinator! Heb je een passie voor online marketing en zoek je een veelzijdige baan met veel ruimte voor eigen inbreng? Solliciteer dan nu!
Wat ga je doen?
Als marketing coördinator verveel jij je nooit. Je schrijft online content zoals blogs en nieuwsbrieven, je coördineert marketingacties, je beheert onze sociale media en je bewaakt de huisstijl. Daarnaast werk je aan projecten die je zelf vorm mag geven. Heb je een goed idee voor SEO of SEA? Vertel op! Zie jij kansen om onze klanten nog beter te adviseren over materiaal en training? Ga je gang! Een evenement organiseren? Leef je uit!
Samen bepalen we de strategie en kiezen we welke projecten prioriteit krijgen. Zo zorgen we ervoor dat iedereen Klimwinkel, OutdoorPro, Ascent en SafetyPro weet te vinden. Je wordt omringt door mensen met kennis van (klim)materiaal en training en wat je nog niet weet, dat kun je leren.
We Enable Climbers
Ons bedrijf, We Enable Climbers BV, bevindt zich in Oosterhout en het opleidingscentrum voor werk op hoogte staat in Amersfoort. We werken met een jong en gemotiveerd team (25 fulltimers) en zijn gespecialiseerd in alles wat met klimmen en werken op hoogte te maken heeft. De afgelopen jaren zijn we hard gegroeid en we hebben de ambitie om verder door te groeien.
We doen al veel op het gebied van marketing maar zien hier ook nog kansen waar we samen met jou op in willen spelen. Voor ons zijn motivatie, samenwerken en eigen verantwoordelijkheid de basis voor het werk dat wij doen.
Onze labels:
Wie ben jij?
Je hebt een opleiding richting marketing gevolgd en/of (werk)ervaring.
Je hebt kennis van- en affiniteit met online marketing.
Je bent minimaal 32 uur per week beschikbaar.
Je bent oplossingsgericht en hebt een positieve instelling.
Je toont initiatief.
Je hebt een vlotte pen en goede beheersing van de Nederlandse taal.
Pré: affiniteit met klimmen of werk op hoogte.
Wat bieden we jou?
Een marktconform salaris
8% Vakantiegeld
25 vakantiedagen o.b.v. een volledige werkweek
Reiskostenvergoeding
Opleidingsbudget
Personeelskorting
Leuke personeelsuitjes
Je bent voornamelijk werkzaam in Oosterhout
Startdatum in overleg, uiterlijk 1 september 2022.
Enthousiast over deze functie? Stuur dan een mail naar catharina@weenableclimbers.nl. We kijken uit naar je reactie!
Job opening - trainer work at height
We are looking for an enthusiastic trainer for courses in work at height and first aid.
In short
You will teach work at height, rescue and first aid courses in our taining center in Amersfoort, in Rotterdam or at a customer's location. When you become more experienced you start teaching increasingly challenging courses. We are looking for someone who is eager to learn, who enjoys standing in front of a group, who is reliable and who can deal with unexpected situations.
Who are we?
Ascent Safety is a training center for work at height. Our team consists of two fulltime trainers, one parttime trainer and a group of freelancers. Our colleagues at the office also have a lot of experience in working at heights. We have enough knowledge to train you. Motivated candidates without much experience are therefore also very welcome. We are a small team and work together to achieve great results.
What are your responsibilities?
teach courses in working at height, rescue and first aid
improve the training programmes together with us
develop your own knowledge in the field of work at height and first aid
perform simple administrative tasks
What do we expect from you?
positive work attitude
eager to learn and motivated
service and customer-oriented
enjoys speaking in front of an audience
B drivers license
speaks Dutch and English
affinity with mountaineering or work at height is an advantage
Interested?
We look forward to receiving your motivation letter and resume. You can e-mail this to Renier Kampman (r.kampman@ascent.nl). Do you have questions about the vacancy? Please feel free to contact us. Acquisition by employment agencies/recruiters based on this vacancy is not appreciated.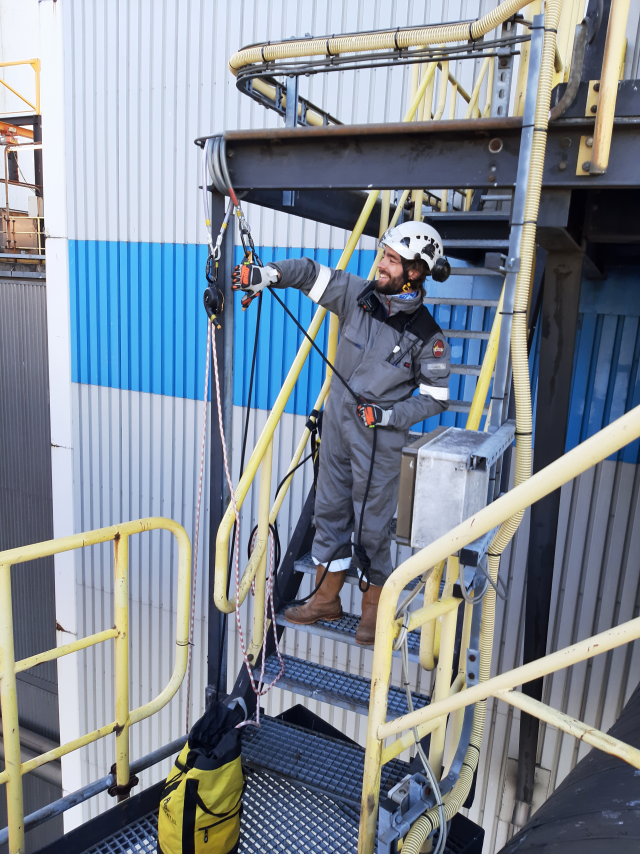 What are the working conditions?
32-40 hours a week
8% Holiday pay
25 vacation days
extensive training opportunities
travel allowance
staff discount & fun staff activities
start date in consultation (preferably within 1-2 months)
We Enable Climbers BV
Ascent Safety, together with SafetyPro, OutdoorPro and Klimwinkel, is part of We Enable Climbers BV. We are a team of your and motivated people (20 -25 full-timers) and are specialized in everything that has to do with climbing and working at height. Our company expanded rapidly in recent years and we have the ambition to continue to grow. In addition to the daily work, everyone contributes to the growth of the company and everyone's personal development through personal projects. For us, motivation, cooperation and personal responsibility are the basis for the work we do.